Bark Blower Service
Bark blower service is provided in BC. Delivery booking and blower truck rates / services for your landscaping project available at 604-328-6355. Great service and competitive prices always available to contractors, landscapers, municipalities and homeowners.
Blower Service for Home Owners / Residential Applications
Bark blowers will be delivered to your site on request and using a hose connected to the blower you will be able cover a large area in very little time. We will finish your project quickly, without stress or mess! We install, clean up, and are on our way. We blow bark mulch into your space with uniform depth and perfect precision. Our Blower Installation Server places the mulch neatly into place. No extra clean up is necessary once we are finished.
Blower Service for Contractors / Builders
Get the work done fast and efficiently with our bark blowers. Our Blower Installation Service can throw down over 60 yards of mulch within three hours. Due to the reach of our specialized equipment, we can install product from road-side or remote areas minimizing the need for larger equipment on your job site's ground. Any installation is possible – give us a call to find out! Basements, steep slopes, elevated beds, rooftops, fenced in areas don't pose a problem with our system. We can reach over sixty feet vertically!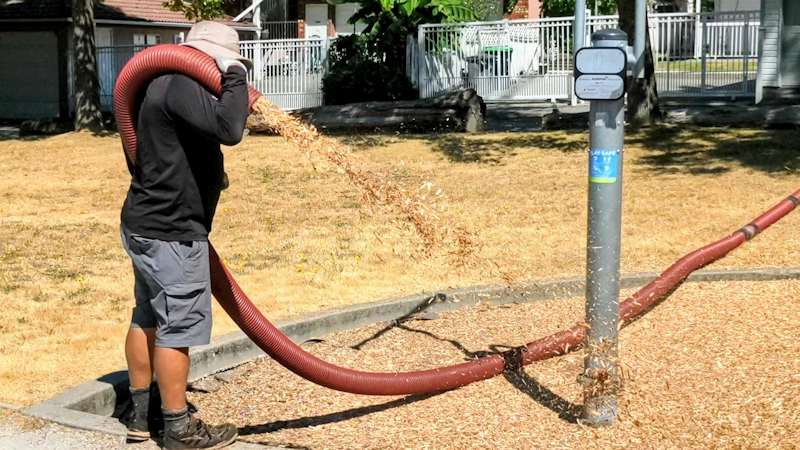 Blower Service for Landscaping Companies
We can do a job with two guys that may take you eight.. in under two hours! Let us optimize your work scope by minimizing the time, effort, and cost required of mulching tasks. Rain or shine, we can deliver even in mud or inaccessible areas.
Blower Service for Municipalities
We can work remotely from the street without stopping traffic, and our equipment can apply a vast amount of product quickly so that we get the job done fast. We can focus our installation precisely from any location, tackling tasks other contracts can't handle due to equipment accessibility.
Our efficiency is reflected in our price points. Time is money, and we are dedicated to being the fastest mulch installation service in the Lower Mainland.
For quotes, service and installation call 604-328-6355