Mar 08, 2022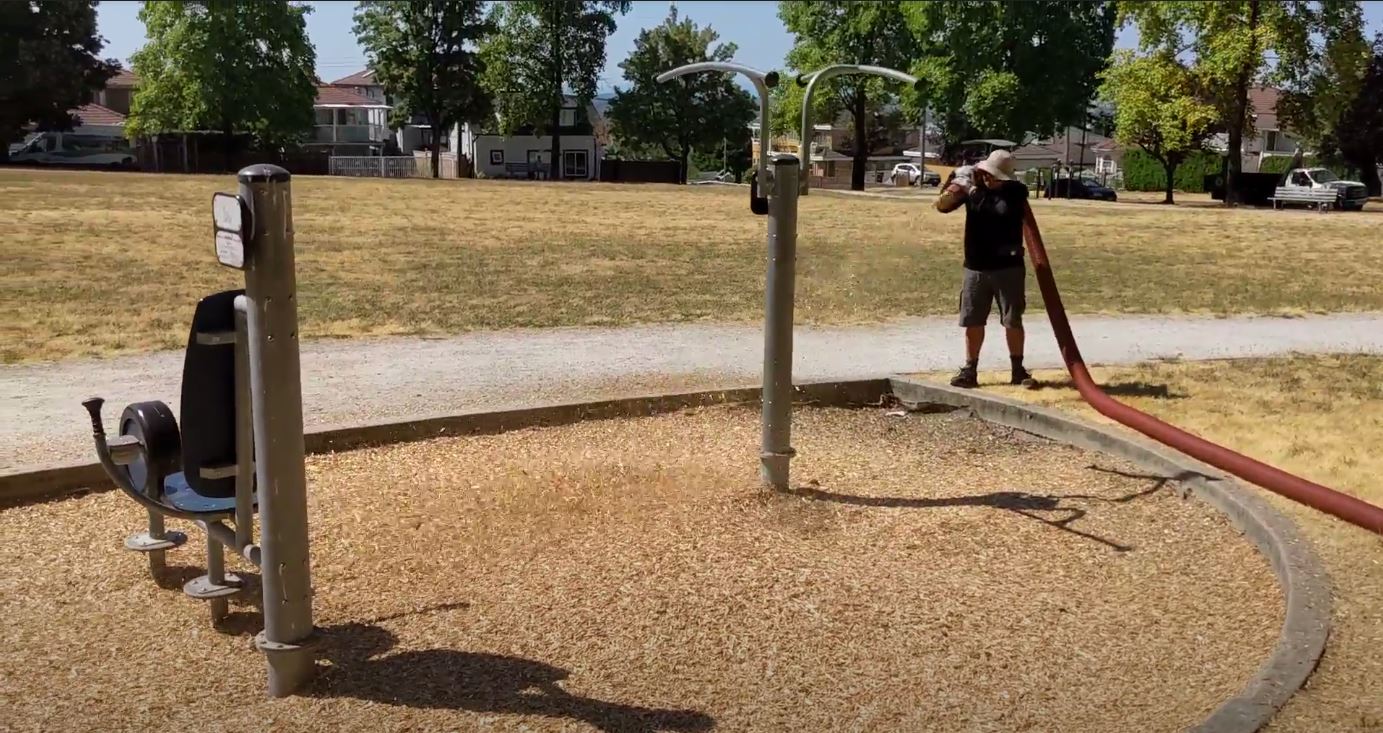 Many commercial landscaping jobs require the spreading of good mulch on exceptional soil and great lengths of land. In the past, this was done by shovelling the mulch directly onto wheelbarrows and making several trips back and forth. Now, a barker blower service and bark blower rental have made it easier for contractors to spread mulch at a faster pace on huge areas of land. It increases your landscaping team's productivity and makes big commercial projects easier.
Get the work done fast and efficiently with our bark blowers. Our Blower Installation Service can throw down over 60 yards of mulch within three hours. Due to the reach of our specialized equipment, we can install products from roadside or remote areas minimizing the need for larger equipment on your job site's ground. Any installation is possible – give us a call to find out! Basements, steep slopes, elevated beds, rooftops, fenced-in areas don't pose a problem with our system. We can reach over sixty feet vertically!
Why Is A Mulch Blower Much Faster Than Spreading Mulch By Hand?
Mulch blowing or bark blowing methods are an effective and efficient way of applying mulch to your landscape at a faster pace. Shovelling mountains of mulch and dumping it with a wheelbarrow can take up more time and effort, as well as risk for shoddy work. With a mulch blower, the process is much better controlled and ideal for laying bark around plants, large commercial areas, or hillsides.
By doing so, you avoid getting stains or grooves on the sidewalk or driveway. Bark blowing services help landscaping teams keep a clean aesthetic to their projects and apply fresh mulch whenever it's needed. You'll limit any extra effort needed to transport mulch across different areas and cover what you need more effectively.
Mulch blowing services drastically cut down work time and apply mulch in half the time an entire crew finishes the job by hand. For example, one person can spread a yard of mulch by hand in an hour. With a mulch blower, two people can spread as much as 60 yards of mulch per hour. This saves your team more time and creates less traffic on the property.
Even though bark blowing gets the job done faster, it also does so in an even, standardized manner that ensures all areas are getting the right amount of mulch coverage. To reduce uneven application and waste, blowing the mulch allows for a precise and uniform landscaping experience. It results in a smooth layer of mulch that will cover your commercial building very nicely.
Bark blowers improve the productivity of your landscaping job significantly!
How Does A Mulch Blower Increase Productivity?
With high-tech mulch blowers, the productivity of your landscaping team is increased and the workload gets drastically reduced. They require just two people to operate a truck that blows mulch out quickly and efficiently in a targeted manner. This makes it an easier process than having a large crew spread mulch by hand.
Mulch blowers can also allow easier access to more areas around a building. Fragile soil, steep slopes, and other hard-to-reach places can delay progress and hinder mulch from being spread. If you're driving a wheelbarrow, it makes it difficult to navigate and avoid creating more foot traffic or track stains. Bark blowing services utilize an extensive hose that's hundreds of feet long to spread mulch in various inaccessible areas. Mulch can also be easily applied on soil beds where it's hard to move wheelbarrows through because of rocky terrains.
Our Triple Five bark blowers can throw down over 60 yards of mulch within three hours. We install roadside products in remote areas to minimize the need for bulkier equipment. Due to the reach of our specialized equipment, we can install the necessary products on road-side or remote areas to minimize the need for larger equipment on the job site. We can help you finish the mulching in around two hours with half the workers needed.
Bark-blowing services not only boost your time and efficiency but can also save you more money long-term.
How Does A Mulch Blower Save Me Money Long-Term?
Mulch blowing services can help you save more money long-term by reducing labour expenses and excess waste. By relying on a bark blowing service, you won't need to hire as many workers to help apply them on soil beds. Instead, a select few mulch blowers will only be needed to help you save on your costs and pass more savings for your project.
This type of service also ensures no excess mulch or debris is left behind. This essentially prevents the mulch that you bought from being wasted, helping you get your money's worth. Only the mulch you need will be spread out and applied while the rest stays in the truck.
Contact Triple Five Quality Wood today to receive a mulch blowing service for your commercial project now!