Apr 01, 2022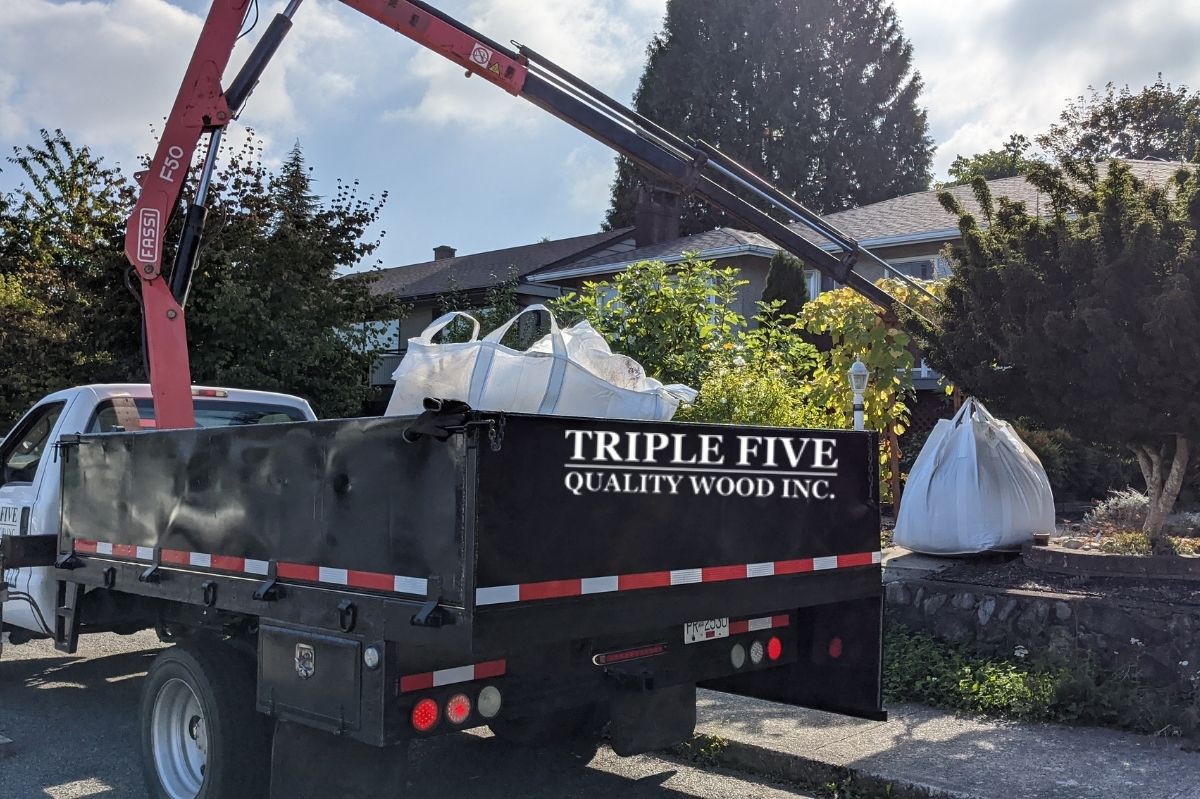 Mulch delivered in a big bulk bag delivers the best value for your intensive landscaping project, where you need to cover as much ground as possible. Without a bulk bag topsoil delivery of mulch, you risk leaving your soil exposed and increasing stress and bad exposure for your plants and shrubs. To avoid killing your plants and allowing weeds to invade your landscaping area, adding healthy amounts of mulch can keep it looking healthy and strong during the summer.
At Triple Five Quality Wood, we provide bulk bag delivery and mulch blower installation service for large commercial landscape projects. Our mulch material and landscaping supplies will help you do your job better and improve the appearance of your open area. We deliver high-quality material and will make sure your plants are protected all throughout the summer season. Here are a few things to consider if you decide to work with us.
Come to Triple Five if you ever need quality:
Landscaping Supplies (Bulk soils, mulch, and aggregates)

Bulk Bags and Delivery

Bark Mulch

Black Mulch

Certified Playground Wood Chips

Bark Blowers

Poultry Sawdust

Soil Mix

And more!
What Type Of Mulch Is Best For Large Landscaping Projects?
Every mulch has its pros and cons, but the type you choose depends on how you want to maintain your large flower beds. Regardless of the type you use, mulch carries many benefits. It can lock in moisture and reduce water loss from the soil, slowing down evaporation and improving water absorption whenever it rains or sprinklers are activated. Good mulch can also slow weed growth, boost the soil quality, add colour and texture to your overall landscape, and protect your plants' roots.
With all that said, the best type of mulch to use is the organic kind. They help enrich the soil as they decompose with the soil covering it. Organic mulch can also mitigate the fluctuations between hot and cold temperatures, keeping it warm and moist consistently. When it works really well, it not only improves the soil but encourages overall plant growth by decomposing and adding valuable nutrients to plants.
The organic materials that make up this type of mulch include wood chips, bark, compost, grass clippings, and dead leaves. All these initially unwanted elements can be repurposed and used to keep your landscape verdant as they improve the soil. Their colour and efficacy should last for a few years and you can switch between black and red mulch whenever, depending on your preferences. These properties help control weeds and improve the appearance of areas with trees, plants and shrubs. Aged mulch can do similar things, but you'll get more value out of fresh, organic mulch.
Organic mulch is also easier to spread around and mix into the soil when applying them near your important plants and annuals. With any great mulch, they also do a great job at preventing weeds from sprouting up in your garden. Here's how that is possible.
What Is The Best Mulch To Prevent Weeds From Growing?
If you're really looking to stop weeds from sprouting in your landscape, the best type of mulch to use is material consisting of large chunks of bark. These large pieces will last much longer than organic mulch that uses smaller bark and shredded wood. They'll also decompose more slowly, reducing the need for maintenance that needs to be performed on your landscape. That includes stopping the growth of new weeds from popping up, as bark mulch needs to only be replenished periodically every two or three years.
Bark mulch (or any type of organic mulch) prevents weeds from growing in your landscape by blocking light and water from reaching the soil. Big chunks of wood mulch ensure weeds don't get the exposure they need to survive and block new weeds from emerging. This ultimately depends on how much layering of mulch you apply to your landscape. Simply adding two to four inches to keep weeds at bay can make your job so much easier.
It's important to note that mulch won't stop weeds from growing completely. Tough weeds like dandelions may find ways to sneak in, but our mulch can help keep them from forming to a limited number. It'll make it simpler for you to dig them out and use rocks to further block weeds from sprouting up. Mulch is available to be purchased in large bulk bags that we routinely deliver to large commercial clients. Here's why it's a more valuable investment than purchasing individual, single bag mulch.
Why Should I Always Get Bulk Mulch Over Individual Bags?
Bulk bags are better to use for your commercial landscaping project because of their accuracy and the composition of their delivery. You'll be able to customize the amount of mulch you receive in order, with any other required materials in one shot. Individual bulk bags can run out quickly, require more trips to load back and forth, and can be expensive down the line. Even if you have some leftovers, bulk mulch can be easily stored away and maintained in a safe area to use next time.
If you need large quantities of mulch delivered for your landscaping project, consider Triple Five today and expect a healthy dose of bagged bulk mulch delivered safe and sound. Protect your plants and enrich your soil for your commercial area now!