Mar 14, 2023
We at Triple Five provide Bulk Bag Mulch Delivery Services in BC, and as spring approaches, it's the perfect time to think about how bulk bag mulch can benefit your gardening or landscaping projects. With Triple Five, you can get high-quality mulch delivered directly to your doorstep, making your spring cleanup and planting easier and more efficient.

At Triple Five Quality Wood we believe that strong relationships, customer satisfaction and quality products are the key to service our community the best way possible. We are proud on helping you create green landscapes that beautify and add value to your property. Call us for our affordable prices and fast service and delivery to homeowners and contractors 778-867-2275. We carry a large selection of materials, whether you are looking for topsoil, bark mulch, aggregates, or maybe just advise and ideas for your project, we invite everybody from homeowners to landscapers and general contractors to visit our store or give us a call today!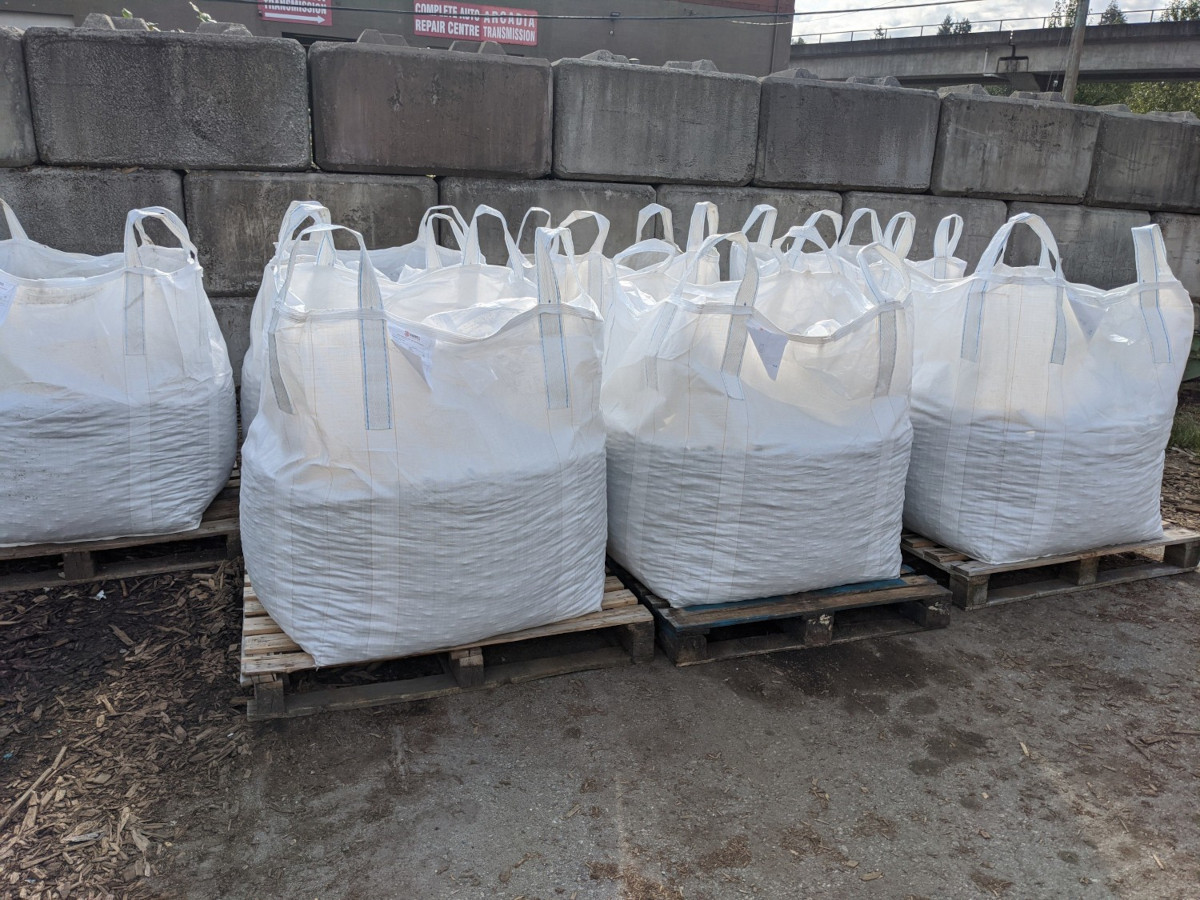 Mulch is a popular material for gardeners and landscapers, and for good reason. Organic mulch is a layer of material, such as shredded leaves, grass clippings, or wood chips, that is spread over the soil surface around plants. It provides many benefits for your garden or landscape, including:
Moisture retention: Mulch helps to retain moisture in the soil, reducing the need for frequent watering.
Weed control: A layer of mulch can help to suppress weeds, reducing the amount of time and effort needed for weeding.
Soil temperature regulation: Mulch helps to regulate soil temperature, keeping it cooler in the summer and warmer in the winter.
Nutrient delivery: Mulch breaks down over time, adding nutrients to the soil and improving soil health.
When it comes to bulk bag mulch, there are many advantages over traditional bagged mulch. Bulk bag mulch is delivered in large, durable bags that can hold up to 1 cubic yard of material. This means you can cover a larger area with fewer bags, reducing the amount of time and effort needed to transport and spread the mulch. Additionally, the bags can be stored until you're ready to use them, making it easy to stock up for multiple projects.
At Triple Five, we offer a variety of mulch options to suit your needs. Some of our products include:
Aged Bark Mulch: Aged Bark is a kind of natural mulch that has been shredded three times and left to age for a year or more before it is sold. It can make your garden look more beautiful and colorful, and it's good for your plants because it stays in place even on steep terrain. You can use Aged Bark on your flower beds, around your trees and shrubs, on walkways, in playgrounds, or anywhere you want to use a natural material like bark to improve your landscaping.
Using natural mulch on top of your soil can help protect your plants' roots from the intense heat and dryness of summer. It also enriches your soil by adding natural humus, which improves its texture. If you have heavy clay soils, using natural hardwood mulch can help improve drainage, and it can increase the water-holding capacity of sandy soils. Aged Bark won't crust, blow away, or wash away if you apply it properly..
Pine bark mulch: Pine bark mulch is a type of natural mulch that's made by shredding the bark of pine trees. Sometimes the bark of other evergreens, like fir and spruce, can be added into the pine bark mulch too. You can buy pine bark mulch in different forms and textures, from finely shredded to larger chunks called pine nuggets. Which one you choose depends on your own preference and your garden's needs. Pine nuggets take longer to break down, so they last longer in the garden than finely shredded mulches. Pine bark mulch lasts longer in gardens than most organic mulches, whether it's finely shredded or in nugget form. It also retains its natural red-dark brown color longer than other wood mulches, which can turn gray after a year.
However, pine bark mulch is very lightweight, so it's not ideal for slopes as it can be easily moved by wind and rain. Pine bark nuggets are buoyant and can float in circumstances with too much water. Nevertheless, any organic mulch benefits soil and plants by retaining moisture, protecting plants from extreme cold or heat, and preventing the spread of soil-borne diseases. Pine bark mulch is particularly good for acid-loving garden plants, and it adds aluminum to the soil, promoting green, leafy growth.
Cedar mulch: Cedar mulch a common mulch used that is made from the clippings and shavings of the bark of hardy cedar trees, These trees are typically sought after for their quality of wood, and through processing, cedar mulch becomes a byproduct from the wood industry. The trees grow fast, and their straightness makes the wood and mulch obtained from them renewable. Cedar mulch is particularly useful as a pest control method. Cedar mulch is fantastic for repelling insects, making it an excellent choice for those who want to avoid using inorganic chemical insecticides. Mulch is also used frequently used for decorative purposes, making it an attractive addition to any garden to add colours and a natural appearance to it.
Playground Woodchip: Playground wood chips are specially designed for use in playgrounds and offer several advantages over regular wood chips or mulch. They are made from untreated wood and are completely free of harmful chemicals, making them a safer option for children to play on. Additionally, they are made to certain size specifications, typically less than two inches in size and without any twigs or leaves.
While they don't decompose as quickly as mulch, they do become compacted, which provides superior cushioning and makes them less likely to shift around or create gaps that could cause injuries. Raking the surface can prevent it from becoming too compacted and also removes any dangerous debris that may have accumulated on top.
Compared to pea gravel, playground wood chips provide a more cushioned landing surface and are less likely to be used by animals as a litter box. The chips are designed to knit together, discouraging animals from burying their waste in them. They also ensure that any debris remains on top, making it easier to dispose of.
Whatever your needs, Triple Five can help you choose the right mulch for your project and deliver it directly to your door. With our Bulk Bag Mulch Delivery Services, you can save time and effort while improving the health and appearance of your garden or landscape. Give us a call today to schedule your next delivery 778-867-2275!