Aug 24, 2021
By using the finest screen on the market for our mixes, we produce soil that is much more conducive to healthy growth. At Triple Five Quality Wood, you will notice the excellence in our texture and porosity, allowing you to successfully grow flowers, shrubs, vegetables and anything else desired.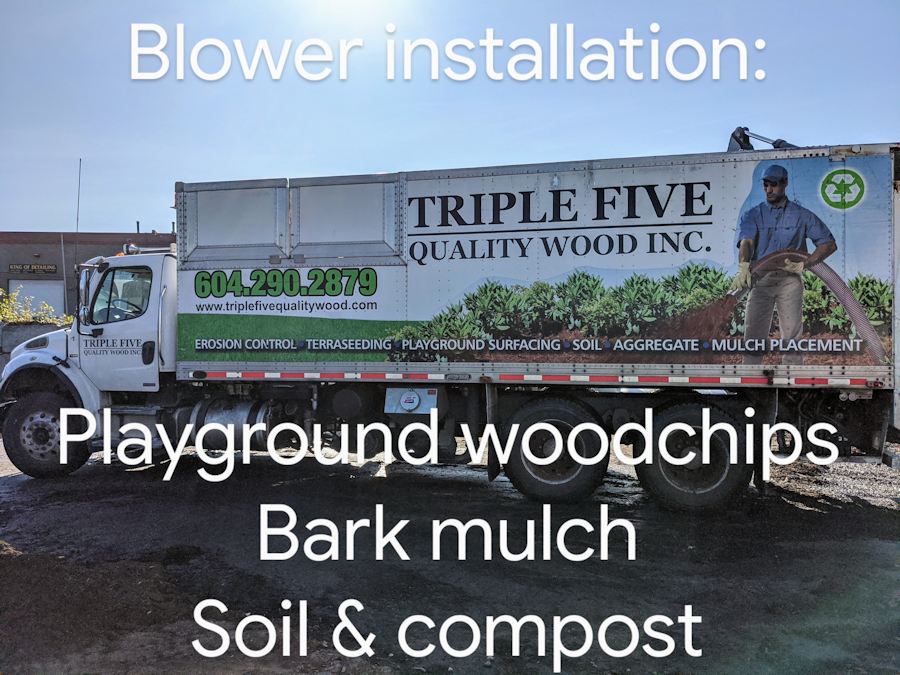 We provide fast, affordable delivery to the Lower Mainland, Fraser Valley and the Sea to Sky Corridor. Additionally, we offer a flat rate and FREE DELIVERY on our bulk landscaping bags that are delivered straight to your home! Just another easy way our bulk bark mulch delivery in the Greater Vancouver Area improves your workload!
Bark mulch provides a beneficial approach to protecting your soil against weeds, enhancing the soil's strength and protecting it against extreme Canadian weather conditions. Our landscape supplies in Surrey and the surrounding area have always delivered unparalleled customer satisfaction and superior bulk landscaping products.
Say goodbye to hauling heavy bags of soil in your car! Get exactly what you need delivered straight to your driveway!
Why is it better to buy mulch in bulk?
Buying in bulk saves you more - get a lower rate for every additional bag you purchase! Take advantage of the savings when you buy two bags or more, and only pay full price for the first bag!
Making a bulk purchase will save you money, and with free delivery to your door, your savings will be significant compared to ordering bag by bag. Buying bulk mulch from a reliable landscaping product supplier relies that your order will always arrive on time and that the quality is never compromised. Invest in your landscaping potential and purchase bulk mulch that is composed of the highest quality and won't decompose at a rapid rate.
Simply choose your product, mark the spot, and have the highest quality, locally sourced mulches, topsoils, and gravel delivered to your door! Each bag is resealable to keep the rain and elements out, making the bulk bags perfect for weekend projects.
How do I calculate the amount of mulch I need for my project?
When maintaining your lawn, large or small, one of the most important aspects of its upkeep is the process of mulching. Generally, the formula to calculate how much mulch you need is multiplying the length and width of the area to be covered, and then multiplying once more for the desired depth of the area.
As landscaping product experts, you can contact us anytime if you have any questions about your project and we can further assist you in any other related fields.
What are the benefits of using bark mulch over other substances?
Bark mulch can enhance the health and appearance of your outdoor landscape and boost the growth of the crop planted. Additional benefits to using exceptional bark mulch include:
Enhances moisture retention in the soil while keeping it cool
Adds a layer of protection from extreme weather conditions
Suppresses weeds
Improves the soil's fertility and life-span
Prevents any dust and debris from blowing around
Why choose Triple Five Quality Wood for your project?
When you're ready to place your order, turn to our experts to help you out. We offer budget-friendly rates accompanied by exceptional customer service. Our passion for quality and efficiency has made us a leader in the Metro Vancouver area. Finally, now it is your turn to get the highest quality topsoils, mulches, manures and more at wholesale prices. Perfect for homeowners, strata corporations, contractors & landscaping companies!
Choose us as your provider of landscape mulch for your landscaping needs. We offer bulk bags that we supply to wholesale and retail markets and provide you with a wide range of mulch options.
Buying in bulk just makes sense! Contact us today for a quote and to speak to one of the experienced landscaping professionals.